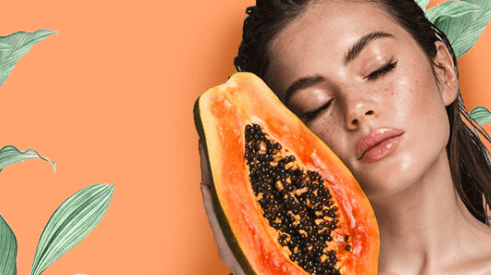 Papaya face masks are an excellent way to achieve glowing skin. Papaya is known to be rich in vitamins A, C, and E, which are essential for healthy skin. In addition, it contains the proteolytic enzyme papain, which helps the skin's barrier by removing dead cells and encouraging cell turnover. A papaya face mask can even out your complexion, give you a radiant glow, and help reduce inflammation. By using this natural ingredient in a face mask, you will benefit from its anti-inflammatory properties and its ability to promote healthy skin. After regular use of a papaya face mask, you will notice that your skin appears brighter and more vibrant – giving you a glowing complexion!
Papaya is an amazing fruit that has so many benefits for the skin. It is especially beneficial for those with oily, acne, or combination skin. Papaya can help remove excess oil, reduce inflammation and redness, and help prevent breakouts. It also helps to exfoliate the skin and keep it soft and smooth. Papaya contains vitamins A and C, essential for healthy skin. Vitamin A helps to reduce wrinkles and promote cell renewal, while vitamin C promotes collagen production, which helps to firm the skin. Papaya is also packed with antioxidants which help protect against free radical damage from environmental stressors like pollution or too much sun exposure. The papaya enzymes can also help brighten dull skin, improve the appearance of scars, and even improve skin tone. All in all, papaya is a great way to nourish your skin naturally!
Papaya is generally suitable for all skin types. Furthermore, the fruit's antioxidant qualities aid in the reduction of age-related symptoms like crow's feet around the eyes and wrinkles around the lips. The benefits of a papaya face pack for your healthy & glowing skin will also come in handy if you have been battling any of these skin issues mentioned above. Consuming it and using it topically daily will provide your skin with the natural boost it needs.
If you have oily skin, then this face pack is perfect for you. This is primarily due to the presence of orange in it, as orange is a natural astringent that can reduce oil on the skin. The combination of these two ingredients could keep pigmentation spots at bay.
If you have oily skin, you can try this face mask. Take six cubes of ripe papaya and mash it well to make a paste. Squeeze juice from six pieces of orange and add it to the mashed papaya. Mix it thoroughly and apply this mask to your face.
Because they are rich in an enzyme that exfoliates the skin, revealing a younger and more youthful glow. The best part about using a papaya face pack is that it can be made in the comfort of your home.
How to make a papaya face mask for dry skin :
Papaya is an excellent ingredient for creating a face mask to help with dry skin. The papaya enzymes help dissolve old, dead skin cells while adding essential vitamins and minerals to your skin. To make a papaya face mask, simply mash up half of the ripe papaya into a paste-like consistency. Spread it evenly over your skin, leave it on for 15 minutes and then rinse it with cool water. You can use this mask twice a week for the best results. Papaya is rich in Vitamin A, which helps hydrate the skin and reduce wrinkles. Additionally, it is packed with antioxidants that can help protect your skin from harmful UV rays and other environmental stressors. The papaya mask will nourish and moisturize your dry skin while providing anti-aging benefits as well. Or
Mix ½ a cup of mashed ripe papaya with a tablespoon of honey and two tablespoons of fresh milk. Apply the paste on your face and neck, and let it dry for 15 to 20 minutes.
Benefits Of Using Papaya As a Face Mask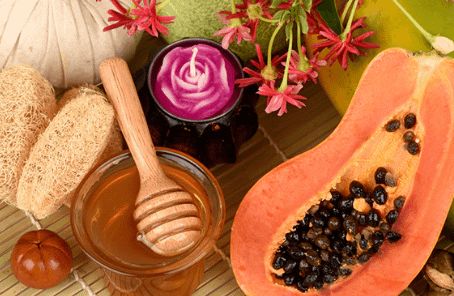 Papaya is a superfood that has long been used for its skin benefits. Many people use papaya as a face mask to hydrate and nourish their skin. The numerous benefits of using papaya as a face mask include reducing inflammation, hydrating the skin, and promoting cell regeneration. The papaya enzymes help gently exfoliate the skin's surface, while its anti-inflammatory properties can reduce redness and inflammation. Its hydrating properties make it an ideal choice for those who have dry or sensitive skin, as it helps to keep the skin soft and supple. Papaya also promotes cell regeneration which can help to reduce fine lines, wrinkles, and acne scars. Using papaya as a face mask is an excellent way to keep your skin healthy and glowing!
Ripe papaya is widely used as a face pack for treating various skin issues. Although no studies prove papaya's benefits for the skin, anecdotal evidence states that it can help.