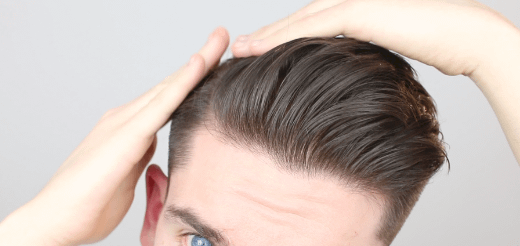 Don't we love to style our hair? Hair clay is one of the styling products. Clay is mostly used for short and medium hair. Hair clay makes your hair manageable and the look that you desire to get with that matte effect. You can say what gels are. Clay works a little differently than gel. With clay, you can rework your hair, unlike gel once it is set, you would not be able to change the style as it becomes stiff. Today I want to discuss a different kind of clay that can be used for hair and style both. It's just used in a different way than regular clay. Clay is recent in the market, but I think it's going to last in the market. Hair clay offers a workable and buildable hold, but it starts off with a stronger hold than other products, meaning you can really strong-arm your style for a sculpted finish. And as it's matte, nobody will know that there's a scaffold of clay keeping your hair in place.
Hair clay for men is a great way to give your hair texture and hold. It is ideal for creating the best hairstyles, as it gives you medium hold with a matte finish. To use hair clay, start by taking a small amount of clay in your hands and warming it up. Then, apply the clay to dry your hair and use a comb to get your hair into place. Depending on the desired look, you can opt for either more or fewer products. Hair clay offers more control than pomade, so it's perfect for creating intricate hairstyles that stay in place all day long.
How do we use regular clay? Can You Use Clay On Wet Hair?
• Make sure that your hairs are
• You can use a hairdryer to dry the hair, or just air dry it.
• Use a pea-sized amount of hair clay. Yes, that is enough if you have small to medium hair.
• Rub the clay between your palms to warm it. It would help to spread on the hair easily.
• Then apply it to your hair and start styling the desired look that you want.
If you follow the above steps, you can desire the look and style that you need. We are going to discuss Aztec healing clay. Yes, this clay is very versatile and can be used for the face and skin. It has a healing property. Also serves as a nourishing agent for all hair types. This clay not only cleanses the hair but detoxifies it as well. It removes all the impurities from the scalp and makes it healthy. It even calms your scalp down if you have eczema as a condition. Why is it best for hair? It is because it moisturizes and conditions the hair. You can even use it as a hair mask and then style your hair. It can even replace your shampoo.
Do You Use Hair Clay On Dry Hair?
When it comes to styling dry hair, the best option is often hair clay. This product is perfect for achieving a wide range of looks, from sleek and shiny to messy and textured. It's an ideal choice for those with thicker hair, as it provides excellent hold and texture without making it look greasy or weighed down. Hair clay is also great for adding definition to curls and waves, as it offers just enough control without compromising movement or volume. However, if you're using clay on dry hair, it's important to make sure that your hair is completely free of any product buildup beforehand, as this can cause the clay to clump up when applied. Additionally, you should always use a small amount of product at a time in order to avoid overloading your locks. With these tips in mind, you should have no trouble getting the most out of your hair clay when styling your dry strands!
How to use Aztec healing clay? Here are the steps:
•   Need to prepare the clay for use. You would need Apple cider vinegar and a plastic bowl and a spoon. This clay reacts with metal, so it's safer to use plastic.
• Make a thick paste-like consistency to use as a hair mask.
• Ensure that the hair is damp before using this mask. To dampen the hair use water in a spray bottle before using the prepared mask.
• Use a towel to remove the excess water.
• Once you have dampened the hair, use a comb and detangle it.
• Take a small part of the hair and mask to apply it from root to tip. Ensure every strand of hair is covered.
• Repeat the same for all parts of the hair. Ensure to cover the scalp and tip of the hair.
• Leave this clay on hair for 45 min to 1 hour.
• Cover your hair with a disposable cap or wrap a cling around your hair.
• Then wash it with lukewarm or normal water.
Once you have done this, you will find your hair so soft and shiny. If you have naturally curly hair, it will give that bouncy look and makes your curl more manageable. Also, your curl will be more defined without using any more products. If you have a dandruff issue as well, then this would resolve. You can even add an essential oil like grape seed oil or tea tree oil. Hair growth formula
Aztec healing clay also promotes hair growth. If your hair is damaged because of chemically treated hair, then you can use this mask to reverse the damage. If you have frizzy hair, then this clay would be useful for that as well. Overall this clay is very versatile and would resolve most of its problems. This clay is easily available. This clay has Bentonite, and it has been used for centuries. It is derived from ash aged over time. You can find these ashes usually in volcanoes. Thus it has healing properties in them hence the name Aztec Healing clay.
Conclusion
Even if you do not have apple cider vinegar at home can use hot water and add essential oils as per your requirement. This hair mask can be used twice a week to get better results. Can use this clay instead of shampoo thus can avoid more chemicals. However, You can use this clay as a cleanser and the best thing about this it will not make your hair dry. Especially great for curly hair it makes it easy to manage. Even if you have textured, dry or rough hair using this clay would be very beneficial. Normally you would need so many products for different concerns, but this clay is one solution to all the problems.